If you can't shut down to count your inventory all at once, you need to use ShipHero's Cycle Counting feature. Cycle counting ensures that you maintain inventory accuracy throughout the year. Many companies employ a combination of cycle counting and shut down once a year to do a full inventory count. For example, they may cycle count their key products throughout the year and count all products during their 100% physical inventory.
Advantages to Cycle Counting
ShipHero is not the only platform you can cycle count on, however, there are some key optimizations using ShipHero for cycle counting.
Cycle Counting is mobile. No paper. (We really dislike wasting paper!)
You are given a clear goal of the number of items to count each week.
You can see how many times products have been cycle counted, or not.
Cycle counting prioritizes the highest risk products first.
A product can be set for cycle counting at any time. Simply click a button to include the product.
How Cycle Counting Works
Using ShipHero, you can specify how often you want to count your inventory. The higher the frequency, the more times you're counting inventory.
You can determine the number of times you want to count inventory by specifying how many weeks you want a cycle count to last. ShipHero will divide the number of eligible products in your inventory over the number of weeks you specify.
Once enabled and configured, Cycle Counting is accomplished by using the ShipHero Mobile app.
How to Enable Cycle Counting
Cycle Counting is not enabled by default. Here's how to enable Cycle Counting.
Using the top menu, go to Inventory > Cycle Counting
Click the Yes, enable cycle count button
Cycle Counting is now available to use

How to Configure Cycle Counting
Once Cycle Counting is enabled, you can specify how many weeks a cycle count will last. For example, if you want to count your inventory twice a year, you would specify 26 weeks.
Note: ShipHero will divide the total number of eligible products in your inventory over the number of weeks you specify.
Specify the number of weeks you want the cycle count to run.
Decide if you want to include or exclude products that have no Bin Location.
Click Save Cycle Count Settings.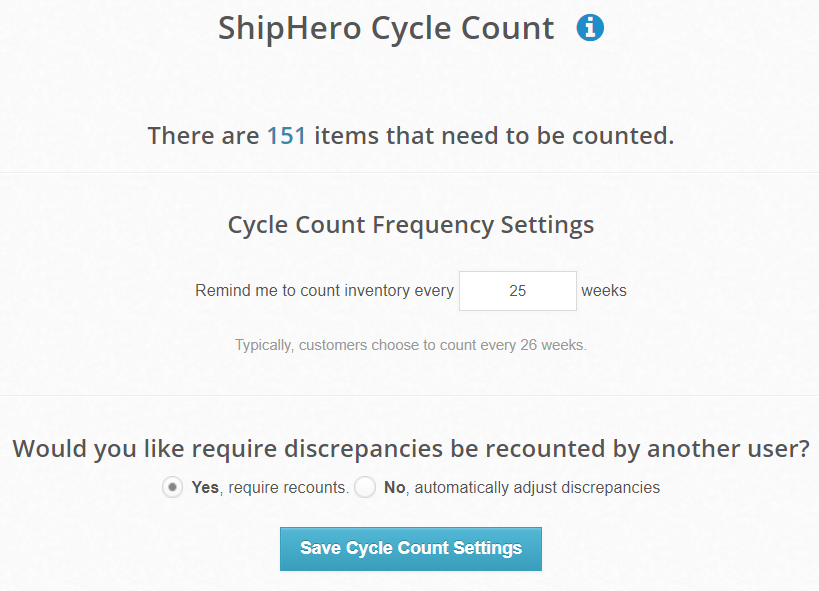 How to Use Cycle Counting
Now that you have enabled and configured Cycle Counting, your team can start to cycle count inventory.
Using the ShipHero iPad app, tap the MENU > Cycle Count.
A list of eligible products that need to be cycle counted is displayed.
Select a product, confirm the count. Tap Confirm (or Cancel if you don't want to update count).
Continue onto the next product.
Tip: Products are removed from the cycle count list as they are updated.
You can view the number of remaining products that need to be counted for the current week directly in the dashboard by viewing the cycle count module.
You can exclude products from Cycle Count by marking the product option Do Not Cycle Count. This can be done by editing a single product, or for multiple products via Bulk Edit.