This article outlines how to apply discounts and gift cards to an order.
Discounts
When you apply a discount to order in Shopify, the discount will be imported to ShipHero. Discount information can be viewed on the order details page: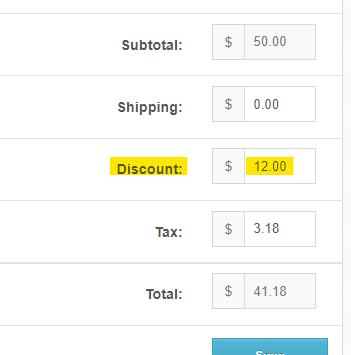 How Discounts Affect Your Order
Discounts are calculated as percentages and applied to the whole order.
The discount rate will be applied to the returned products if you are issuing a return order.
ShipHero does not apply discount codes to customs values if you are shipping internationally. More information is here.
Gift Cards
Unlike discounts, gift cards do not change the cost of the order but are considered part of the payment. As you may already be aware, ShipHero does not handle payments. For this reason, you will not see gift card amounts displayed on the order details page. When a gift card is applied to an order, you will only see that the amount captured is lower than the authorized total of the order.
How Gift Cards Affect Your Order
In the example below, the customer had both a discount and a gift card, and they paid the order in full using the gift card. Notice that the discount is visible, but the gift card is not. This is why you only see the shipping cost contributing to the Total, while the amount under the Authorized heading shows the total amount authorized before the gift card was used to pay the order. Because the gift card covered the entire order cost, the Captured amount is zero, as we didn't capture any amount using the credit card from the customer.