There may be times when you need to separate damaged stock into a Non-Sellable Bin.
What Does Non-Sellable Mean?
When a location or bin is set as non-sellable, inventory in this location will not be taken into account as part of the on-hand. The product will not be sellable or pickable.
Note: This feature is only available for accounts using Dynamic Slotting.
How to Set Up a Non-Sellable Location
Using the Locations Page
You can set up a non-sellable location by going to app.shiphero.com > Inventory > Locations and editing a current location or adding a new location.
When setting up the location, indicate whether the bin is sellable.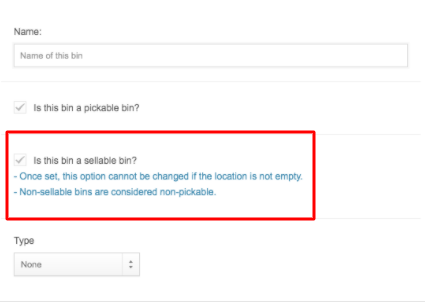 Using CSV Management
Go to app.shiphero.com > My Account > CSV Management.
Select Locations as the item to upload
Use the CSV Template to indicate whether the location is sellable
Follow the directions to upload.
Remember, the CSV management is case-sensitive. Refer to this article for more details: How to Create Bin Locations
How to view non-sellable inventory
There are multiple places to view non-sellable inventory.
On the Locations Page
Go to app.shiphero.com > Inventory > Locations and filter for "sellable". You can also use the Column Visibility option to add a Sellable column to your view to see the quantity in each location.

On the Products Page
On the dashboard menu go to Inventory > Products.
Using the Column Visibility option, add the Non-Sellable Total column.

On the Product Details Page
Go to app.shiphero.com > Inventory > Products and select a product to open the Product Details page. Here you can view the non-sellable total for that specific SKU as well as which bins are sellable.