Every ShipHero Customer has unlimited access to support services and resources included in their paid subscription, so take advantage of our four main support avenues:
Self-Help Resources
Want to find the answer yourself and research the ShipHero content available? Check out the links below for additional resources available for everyone.
Developer Resources
Below are links to our online forum for developers to brainstorm solutions or work directly with ShipHero API experts.
ShipHero Software Customer Support
Direct support to diagnose and resolve issues, as well as give advice on product features. Customers have 24/7 access to ShipHero Support through our Ticketing System HERE. Please note the support operating hours below. In this section, we cover: 
ShipHero Software Support Hours
How to Create a Ticket with ShipHero Software Support
Managing Your Support Experience
ShipHero Support's Escalation Process
ShipHero Support Hours 
Mondays-Fridays, 6 AM-10 PM ET
Saturdays & Sundays, 10 AM-3 PM ET
NOTE: November 1st through December 31st we have extended weekend support hours of 9 AM- 5 PM ET. In observance of the holidays, ShipHero Support is closed on December 25th and January 1st.
How to Create a Ticket with ShipHero Software Support
Log in to https://app.shiphero.com/.
Click on Help, located at the far right of the Menu Bar
Click "Submit Ticket" to create a new ticket. For more information on accessing existing tickets, please visit HERE.
Fill out the required fields and send your request.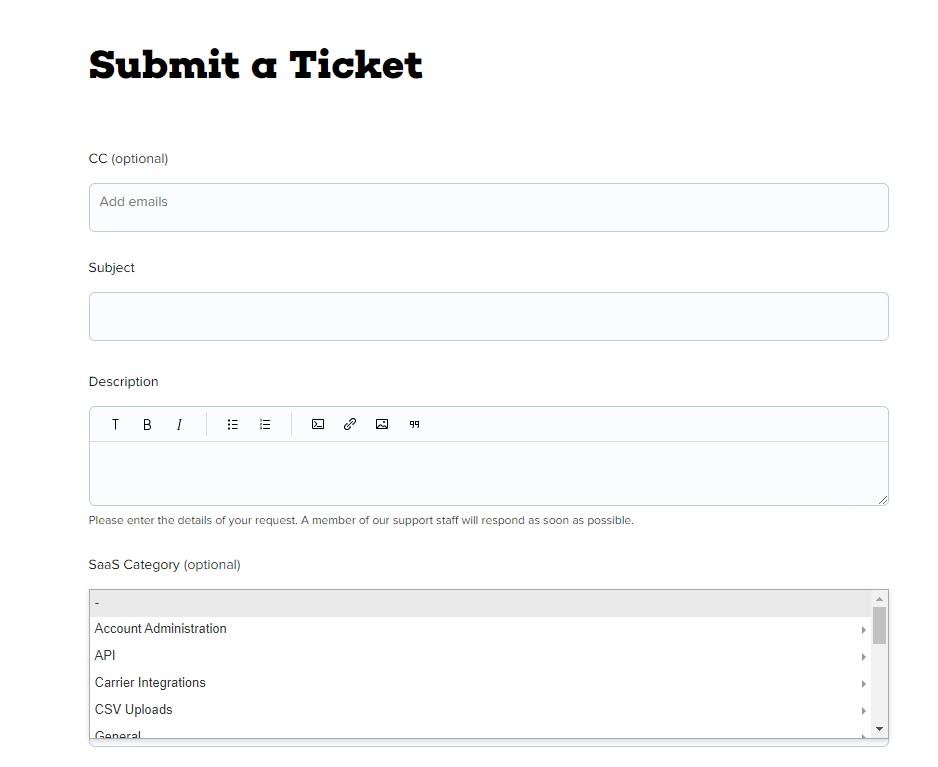 5. You will receive a pop-up with suggested articles based on the information on your request, as shown below. If the list of articles solves the issue, select "Yes, close my request," if not, select "No, I need Help," and the request will be sent to the Support Team.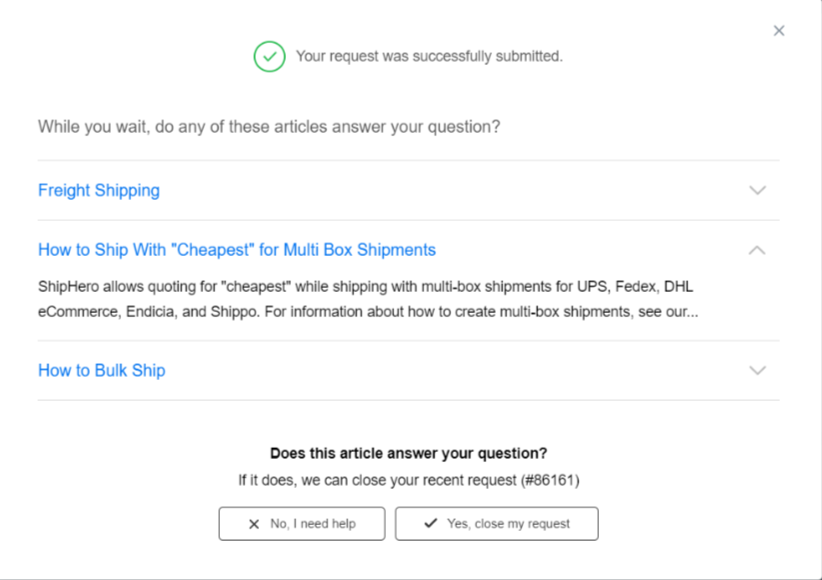 Managing Your Support Experience
When submitting an issue to ShipHero Support, it is first routed to Tier 1 Support. Our Tier 1 Support team can solve 80% of support requests without escalation and strives to respond within an hour of first contact. You can further expedite the resolution of your issue by providing the following details in your ticket:
Details on where you are seeing the issue. (Are you using ShipHero Web or ShipHero Mobile? Knowing the version helps, too.)
An outline of the issue you are experiencing, with the following details:
The specific order number or product SKU that you are having problems with.
A screenshot or video is helpful, so we can see what you see.
Details around what steps you took when you experienced the issue. (This helps us replicate the issue you are seeing.)
ShipHero Support's Escalation Process
If our Tier 1 Support team cannot resolve your issue, then your issue will be escalated to Tier 2 Support. Our Tier 2 Support team can solve 70% of support requests without escalation and strives to respond within 4 hours of first contact.
If our Tier 2 Support team can replicate the issue and confirm a software bug, they will expedite the issue to our Engineering Team for resolution. Our Engineering Team releases hotfixes daily, prioritizing issues by level of impact. Because of that, we do not have a guaranteed resolution time for issues escalated to Engineering.
Customers can escalate issues to their Customer Success Manager if they are not satisfied with the quality of their support experience. From there, Customer Success Managers will gather feedback, share it with the appropriate ShipHero Leader, and take the appropriate steps to improve your support experience.
Requesting a New Feature
If the issue is related to a new feature idea, the customer can submit their idea request on the Help portal.
Our Tier 1 Support team then requests the feature on the customer's behalf to our engineers. Implementation of a new idea requires that it has a broad reach across the majority of customers.
Our engineering team works on feature requests daily. New features are prioritized by the level of impact and the number of customers requesting the same feature.
Customer Success Managers
Our team of experts helps you maximize the value of ShipHero by educating your team on the application, helping you incorporate best practices as you grow, and keeping you informed on all the up-and-coming features.
Contact your Customer Success Manager by email. If you are unsure who to contact, please message ShipHero Support.