Planning a product launch or "drop"? Hold Until is the fully automated way to hold order shipments until a specific date and/or time. ShipHero customers can use this to control product launches and drops, including subscription boxes that ship out on a set day each month.
Set Hold Until on a Specific Order
To set Hold Until for a specific order, locate the specific order and open the Order Details page. Under the details section, you will find two new fields: Hold Until Date and Hold Until Time. Hold time is optional, and default time is 12:00AM (00:00) local time on your account for the chosen day.
The Hold Until date and time is checked every 30 minutes. You can manually update the Ready To Ship status by reprocessing the order; this will force an update to reflect the Hold Until date/time.
Set Hold Until via Automation Rules
To automatically set Hold Until for orders, simply set triggers or actions using Automation rules.

Trigger
You can set the trigger as anything, such as a specific SKU.
Action
Hold until "x" days from now (calendar days)
Hold until "x" hours from now (coming soon)
Hold until date & time
Set/Remove Hold Until on Orders Using Bulk Edit
Select the orders you wish to edit in bulk. Set or remove a Hold Until date/time and update.
Viewing All Orders That Have a Hold Until Status
On the Manage Order page, there is a new filter that says Has Hold Until. Select Yes and you can view all orders that have Hold Until attached to them.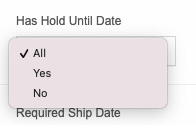 Ready To Ship Status
When you set a Hold Until day/time for an order, the Ready To Ship status will automatically be set to No.

If you are ever unsure why an order is not ready to ship, you can check the (Why?) link to see what is causing this order status.