Due to regulations, some commodities classified as Dangerous Goods are ineligible for air freight. The no air shipping feature in ShipHero allows users to prevent dangerous goods from shipping via air services by eliminating certain shipping methods during quoting.
Note: For more information, see How to Ship Dangerous Goods.
How to Enable No Air Shipping
Go to My Account > Settings > General Settings.
Enable No Air Shipping under General Preferences.
Click Save Changes on the bottom right of the page.
Log out and back into the account.
Contact Support and ask to have the filter_methods_for_no_air flag enabled.
3PLs should enable No Air Shipping in the 3PL account and contact Support to enable the feature flag on the client account. Please include the client's account name or number to expedite the request.
Identifying No Air Shipping Products
Go to Inventory > Products.
Scroll to the No Air filter.
Select Show No Air Products.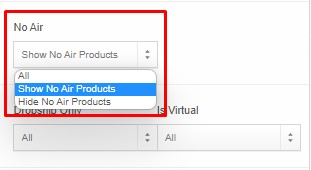 Shipping with Cheapest or Mapped Shipping Methods
No Air Shipping with Cheapest
If cheapest is being used as the shipping method and there is a product in the order with no air shipping enabled, then ShipHero will only show ground services.
No Air Shipping with Mapped Shipping Methods
It is also important to note that no air shipping is only identified when quoting. Therefore, if you have a mapped shipping method or an automation rule for Cheapest Next Day or 2 Day Air and a product in an order with no air shipping enabled, it will disregard the setting and apply the method which has been mapped. To avoid this, create an automation rule to override the mapped method specific to no air shipping products. Here is an example:

Tip:

As a best practice, have no air shipping products identified in the store platform to prevent your customers from selecting air shipping options at checkout.