Walking from one location to the next typically accounts for the majority of a picker's time in the warehouse. Single Item Batch (SIB) picking improves the efficiency of the picking process by organizing single-item orders into batches. It can be useful for high-volume sales or if you frequently receive requests for an individual SKU. When using Bin Locations, ShipHero intelligently organizes the picker's route to minimize travel distance by sorting the picking route based on the bin locations of your SKUs.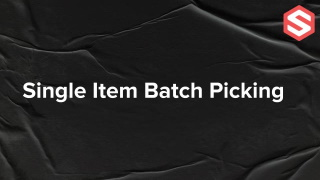 Watch our video about Single Item Batch Picking
Single Item Batch Picking Process
Log into the ShipHero Mobile App.
Select Single Item Batch on the home page.
Scan an empty tote.
The application will tell you which items to pick.
Scan the item and confirm how many you are putting into the tote.
Once done picking, the application will move on to the next item.