The invoice auto-print setting is intended for single order shipping and multi-item batch picking on the ShipHero Mobile App.
If your team picks single orders, the invoice will print once the user clicks Pack. If your team uses batch picking, the invoice will automatically print once the user scans the tote.
How to Enable Invoice Auto-Printing
Go to app.shiphero.com > My Account > Settings
Click App Settings.
Check the box next to the option Automatically print invoice once all items in order are picked.
Save your changes before you leave the App Settings page.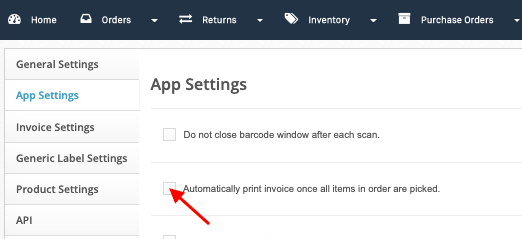 Once this setting has been enabled, invoices are printed at the workstation the user is assigned to.
Note: Invoices will not automatically print if the setting Tote QA is enabled for the user.