The Live Shipping Board is the newest update to the HeroBoard that gives you a view into the stats for each packer, remaining orders, and more!
You can access the Live Shipping Board by clicking on any of your warehouse names in the HeroBoard in the web browser (shipping.shiphero.com/hero-board) or the Packing App.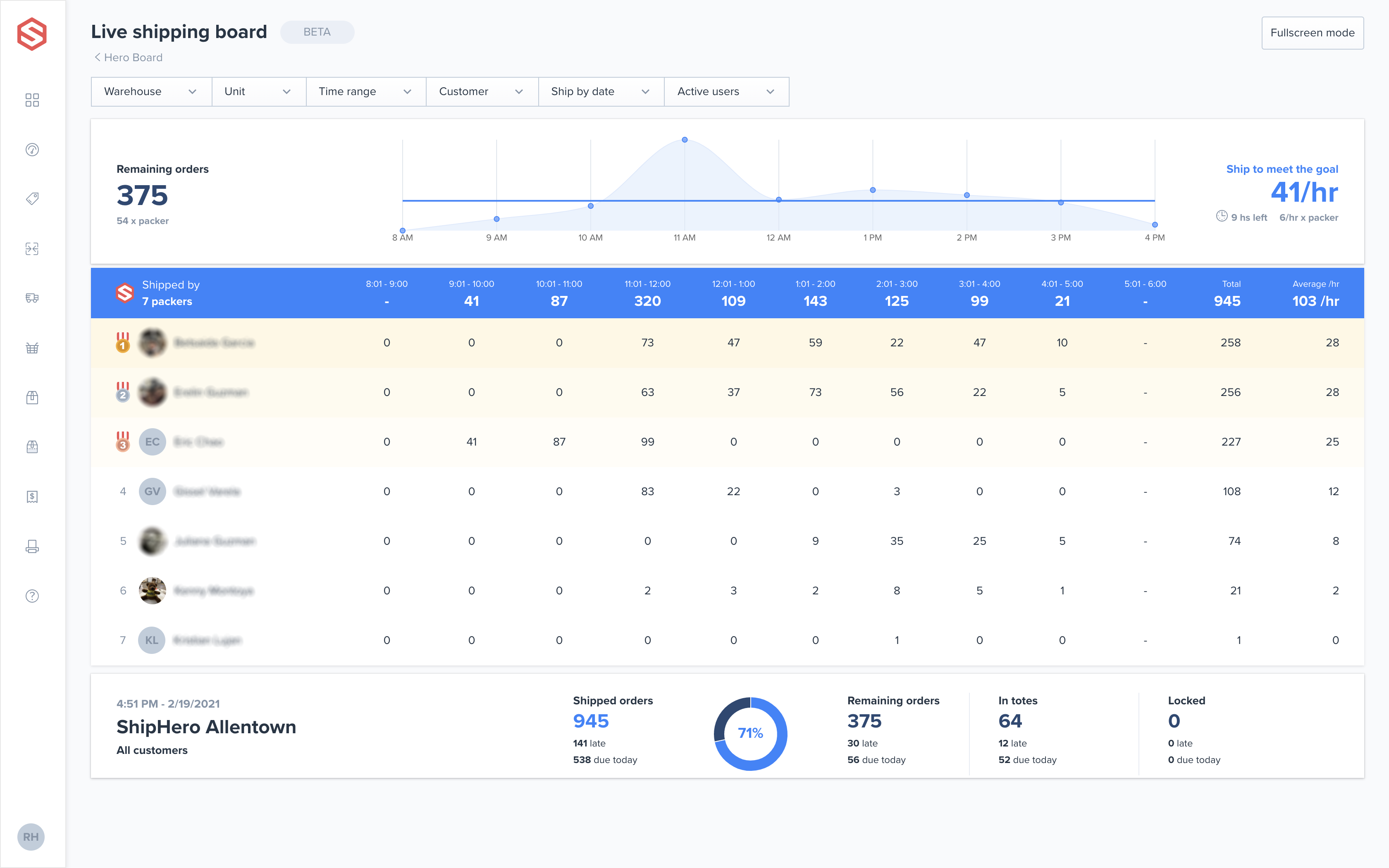 Filters
Warehouse - Easily switch between warehouses
Unit - Change the unit that the Shipping Board reports from 'Orders' to 'Items'
Time range - Drill down to a specific time in the day
Customer - Filter by specific customers (3PL only)
Ship by date - Show orders or items that are due to ship by 'Any Date', 'Due Today', 'Late'
Active users - You can choose to select a specific packer(s) or show all at once
Bookmark and/or share filtered views
When viewing the Live Shipping Board in your web browser, each time you select or clear a filter, the URL of the page updates. That URL can be bookmarked/shared to easily return to that filtered view in the future.
Tip: Use these URLs to create links for specific warehouses, groups of packers, and specific 3PL clients.
What do these numbers mean?
Remaining Orders/Items - The current number of outstanding orders/items that are due to ship by the 'Ship by date' selected in the filter

'xx' x Packer - The current number of outstanding orders/items that need to be shipped by active packer

Ship to meet the goal - The number of orders/items that need to be shipped by hour to finish all orders that day
Shipped orders/items - The total number of orders/items that have been shipped

'xx' Late - The total number of orders/items that have been shipped late
'xx' Due today - The total number of orders/items that have been shipped that are due today

Remaining orders/items - The total number of orders/items that remain to be shipped

'xx' Late - The total number of orders/items that remain to be shipped and are late
'xx' Due today - The total number of orders/items that remain to be shipped and are due today

In totes - The total number of orders/items that are in totes

'xx' Late - The total number of orders/items that are in totes and are late
'xx' Due today - The total number of orders/items that are in totes and are due today