This article explains the Shipping menu in the ShipHero Web Dashboard.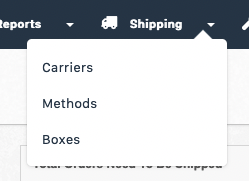 Carriers
Connect shipping carriers to your account here. Use the dropdown to add a new carrier and follow the prompts to connect the carrier to ShipHero. Certain carriers may take longer to set up than others due to applying rate sheets. If you use any of the following carriers, we recommend connecting these as soon as you create your ShipHero account:
DHL eCommerce
UPS Mail Innovations
Note: To use Endicia (USPS), you must create an account through ShipHero. To create an account, use the dropdown to add a new carrier and select Endicia (USPS). A new window will pop up. Click "Sign Up" to create a new account.
Note: If using UPS Mail Innovations, please provide a rate sheet to support@shiphero.com.
Methods
Shipping options from connected store platforms will be unmapped in ShipHero. Use the 'Unmapped' and 'Store' filters to view the methods that can be mapped. Click on the 'Shop Shipping Method' to edit which carrier and method should be applied in ShipHero when customers select that specific shop shipping method when placing an order on the store platform.
If orders are unmapped, they will sync to ShipHero assigned as 'Generic." You can select the appropriate shipping method at the time of packing the order. Mapping the shipping method removes this step for you.
Use the 'Mapped' and 'Store' filters to view which methods have already been mapped within ShipHero. Apply a shipping cut-off time to decipher a specific required ship date. Wildcard matching is intended to be used if you have many shipping methods with the same word in the name and you want them to be mapped the same way. For example, if you had a method called "Free Shipping - New York" and similar for each state, using Wildcard matching relieves you from having to map each individual method.
Boxes
Create custom boxes and barcodes for easy scanning when shipping. Enable carrier-specific boxes depending on which carriers are connected to your account. Print box barcodes by clicking on the 'Name' of the box barcode you want to print. Then click 'Print Barcode.' Sort by Warehouse and Box Type.
Keep track of box inventory by clicking on the 'On Hand' quantity and updating it to the appropriate amount. When you select this box for shipping, the inventory will be deducted.
The Column Visibility tab allows control over which fields you view on the page. You have the option to export the data to CSV or PDF.
Note: The existing box barcodes are not editable and are specific to the carrier box barcodes.
Further Resources